Would You Dare To Walk Around Naked All Day? Well, This Girl Did It. (15 Eye-Opening Pictures)
The western world has become obsessed with clothes and scared to death of naked bodies in public. Show some naked boobs in the wrong place and you will go to jail. We are so disconnected from our naked bodies that we think it is unnatural being naked. We have been taught that nakedness is something to be scared off, something wrong, something to hide.
Truth is: We are all born naked. Not with some fancy clothes.
This Is What It Would Look Like For You Being Butt-Naked All Day Long

#1 Going to work butt-naked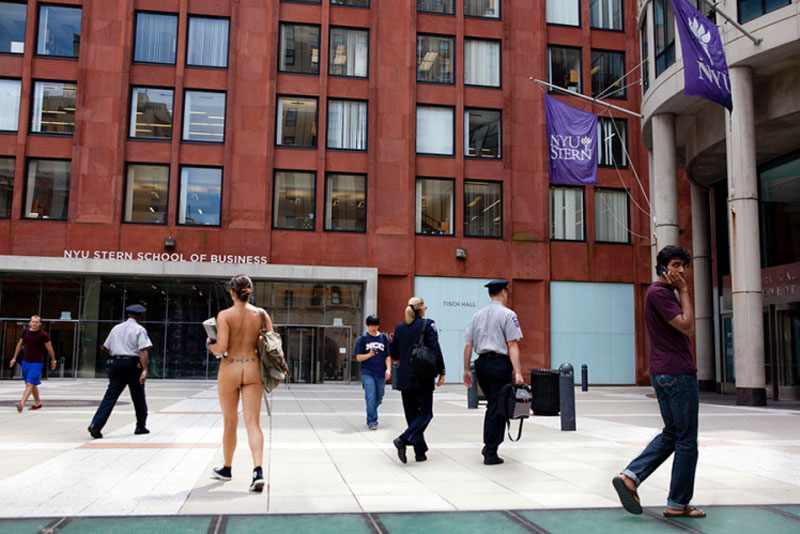 #2 Going shopping butt-naked
#3 Driving home butt-naked
#4 Getting something at the corner butt-naked
#5 Going for a walk in the rain butt-naked

#6 Getting a snack butt-naked
#7 Reading a book in the center of the city butt-naked
#8 Going to the library butt-naked
#9 Working out butt-naked
#10 Riding the bicycle butt-naked

#11 Going on a road trip butt-naked
#12 Getting some money at the bank butt-naked
#13 Waiting for someone and reading the newspaper butt-naked
#14 Being ready for take-off butt-naked
#15 Going jogging butt-naked
[sociallocker id="2072″]
[/sociallocker]
Why can we be arrested for being naked, when as human beings, we are born naked?
Erica Simone, the photographer of this eye-opening photo series, stated:
"Why can we be arrested for being naked in the street, when as human beings, we are born naked?" I can understand that it would be socially unacceptable or morally discouraged, but for it to be in some cases prohibited by law…? This all seemed quite bizarre and really more so a violation of human rights.

Another question that arose was that of sexuality. "Is nudity inherently sexual or is nudity just a part of being human? Why does society typically equate nudity to sex? And how does the variety of body types come into equation when asking that question?" Each person's answer is different.

To clarify, I'm not an exhibitionist or a nudist – I'm an artist looking to humorously poke at some interesting thoughts about society and question who we are and portray as human beings. It's now up to the viewer to answer those questions, as he/she likes."
Matter of the fact is that being naked more often is not just good for your physical health but even more for your emotional well-being, your level of confidence & self-love.
Visit Erica Simone's Website
Mucho amore, Adina
Join The Secret Sunday List & Get 1 FREE Actionable Secret Every Sunday.
Share Your Thoughts