Why These Women Are Butt-Naked, Honest & Incredibly Beautiful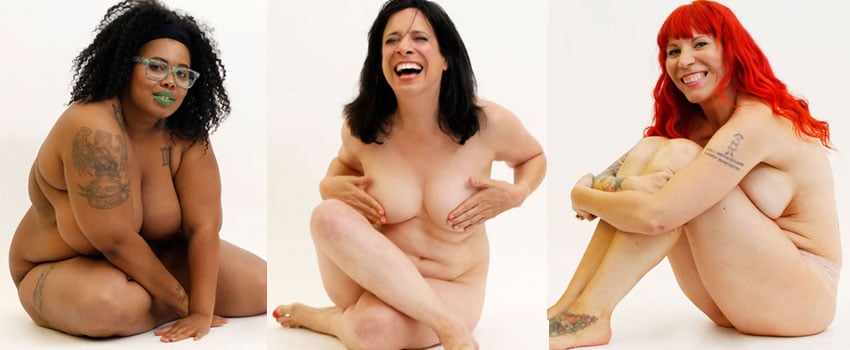 These women don't look like models and you know what? They don't give a sh**. They love their stretchmarks, curvy hips and their wrinkles.
They have made peace with their past and look forward to their future. They learned to accept their rough edges and even "worst" fell in love with them. And by the way: the edges we consider as rough are all made up by our gloriously creative mind if you ask me. (.. talk to the most beautiful woman and she will tell you about the many things she does not like about herself.)
This self-love movement is called the Bare Campaign, founded by Michelle Fetsch. Learn more about her and the campaign at the end of the article. But first get to know these lovely ladies.
Learn about self-love from these beautiful women
#1 Lakshmi, Age 75: What do you love most about your body?
 "I love my eyes, my blue hair, my breasts, my legs and my pretty little feet."
#2 Tanya, Age 39: What is your dream for the next generation of women?
To look back at us and laugh at all the pain and suffering we imposed on each other, all the judgements we passed on each other. How mean we were.  How foreign it will all seem to them. How loving, nurturing and supportive they are to each other. I see the seed of it, but when we are old and the next generation is strong…i want to see it as a sweeping movement.
#3 Mykale, Age 27
"I posed for all women that hate who they are!"
#4 Bonnie, Age 61: What is your dream for the next generation of women?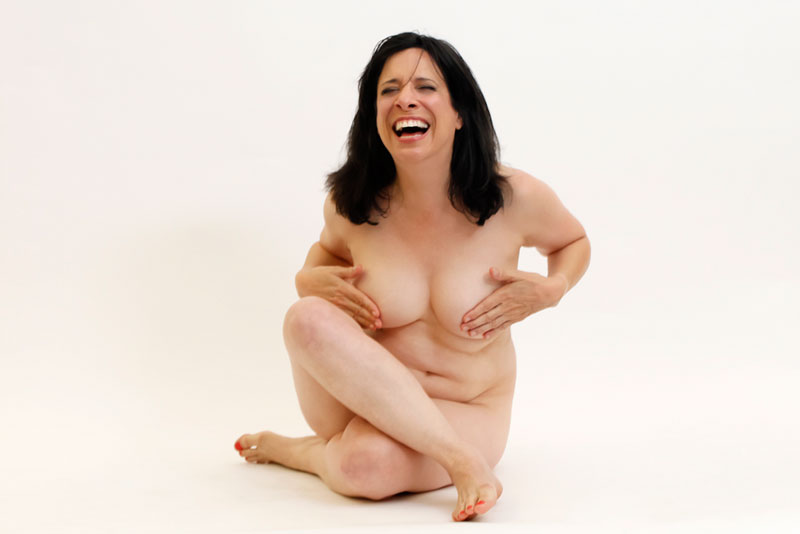 Well, since my daughter is the next generation of women, I think about this a lot. The quick and easy answer is this: My dream is that women won't have anything to battle against as a result of being women. That is, our world will have learned to embrace and love women exactly as we are and exactly as we're not. And then, even more than that, my dream is that women's only reaction to being women is to love every second of it!
#5 Xiomara, Age 37: What is your dream for the next generation of women?
I hope that in the future woman can embrace the curves that we were meant to have and have self acceptance and that just like a shoe or purse we come in different styles, colors and sizes.
#6 Vanessa, Age 37: What do you love most about your body?
I love that my body is always at my service, its constantly performing miracles to keep me alive. I love my soft curves and womanly roundedness, powerful hips!
#7 Hilary, Age 37: What's the most courageous thing you have overcome in your life?
[sociallocker id="2260″]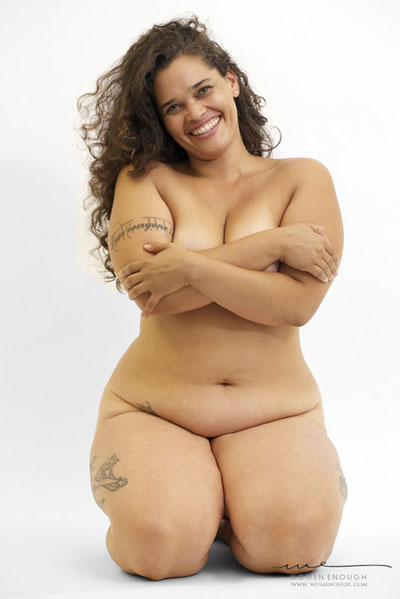 [/sociallocker]
My ability to be a sexual being after experiencing sexual abuse it's building a background of self-love and I refuse to reshape any part of me to fit anyone else's ideal.
About the Bare Campaign & Women Enough #WE
I have met Michelle Fetch, the amazing soul & founder behind this campaign about 3 days ago for breakfast. What she has created is something desperately needed in this world and at this time. Here's her story:
I created Women Enough, #WE, in the summer of 2010 after a 16 year struggle with eating disorders, self esteem and downright confidence issues that stemmed from the core belief + conditioning that I wasn't enough.  I was sick of believing something that no longer felt true to me and I was committed to supporting other women in owning their worth.

I realized that what I had to say landed with other women – they were longing for the freedom to feel good in their own skin. They were longing to own their worth far beyond their beauty. They were sick of media as usual and they wanted to stand up for creating positive, realistic and empowering messages in the world.
And there was one more thing that deeply resonated with me. She said:
Only when you get totally BARE with yourself and the world will you access the total and complete freedom to live into who you were truly meant to be.
I couldn't have said it any better. Please support her work by sharing this article and visiting her website

"I am not my hair, I am not this skin. I am the soul that loves within."
All Image Credits to: Anastasia Kuba / www.womenenough.com
Join The Secret Sunday List & Get 1 FREE Actionable Secret Every Sunday.
Share Your Thoughts