Porn Is Considered Normal But Breastfeeding Is Embarassing? Are You Serious?
I once had a conversation with a person while breastfeeding my little boy. He mentioned that he feels embarrassed every time he sees a woman breastfeeding her child in public and he would prefer a woman to breastfeed in privacy only.
Well then we also have to hide all the glossy porn magazines in the shops. Then we have to hide sexuality. Then we have to hide life itself. And well, that is actually exactly what is happening more and more. I therefore love the idea of the following campaign.
This Campaign Is Fed Up With This Movement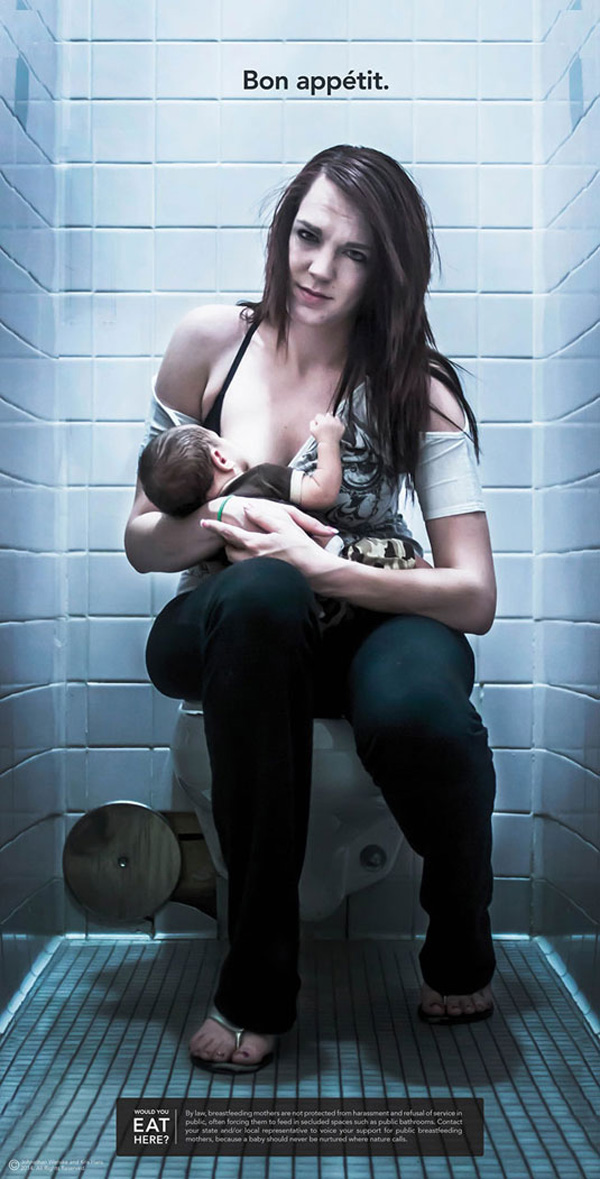 If we do not stop this sh*t then our society will become sicker and sicker with every year that passes by. Breastfeeding is the most natural, important and powerful way of raising healthy, vibrant and smart children. Boobs are perfectly normal, sensual, beautiful & nurturing. They are a source of life & love.
We need you BREASTFEEDING MOMMY'S. You are amazing. You are the real change in this world. The milk you are feeding you child has not only the highest amount of nutrients but it is filled with love. No baby formula on this planet can ever replace breast milk. No baby formula contains LOVE as the single most important ingredient in it.
Two Juniors Of A University Created This Amazing Campaign
Two juniors at the University of North Texas, Johnathan Wenske and Kris Haro, created an ad campaign to push back on the message that breastfeeding moms should just go to the bathroom to feed their children. They call the project When Nature Calls, and it "aims to protect a mother's right to breastfeed her baby in public by striving to pass the bill HB1706, which will protect breastfeeding mothers from harassment and discrimination when they choose to nurture their child in public."
Here's What You Can Do To Support The Campaign
#1 Like Their Facebook page in order to comment and discuss the campaign. The more supporters we have, the more likely your voices will be heard.
#2 Raise awarness to anyone and everyone of this issue. As a society, we need to have the conversation of is this right or not. Mother's have been there from the beginning
#3 Share this post to raise awareness and make a difference.
Here's My Favorite Picture Of A Breastfeeding Women
[sociallocker id="1972″]
[/sociallocker]
Photography By Jade Beall
Let's stop this madness & get back to our original roots. Love, Adina
Join The Secret Sunday List & Get 1 FREE Actionable Secret Every Sunday.
Share Your Thoughts